As an Amazon Associate, I earn from qualifying purchases. If you make a purchase through links from this website, we may get a small share of the sale from Amazon.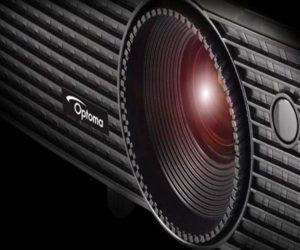 The USA's Optoma brand is one of the prominent manufacturer brands ever to produce the best quality home theater projectors worldwide. There is undoubtedly no other brand that can give you that much the highest quality and satisfaction at the same time.
Though, if you are searching for the best Optoma projector, then here, we will show you our comparison of two products by Optoma "Optoma HD142x vs HD143x".
We will also explain all the details of the Optoma HD143x and Optoma HD142x  by that you can easily choose the best projector for yourself.
However, you can find many different product lines from this brand, which can quickly turn up into the best choice for your family. Although, if you are one who is considering getting the best Optoma projector.
Then here we will show you the main differences between these two, as well as their essential features. There are a lot more things and features to be loved about these two Optoma projectors. Both are capable of providing you with the lasting build quality and much more.
Most users, we have seen that they prefer Optoma HD143x.
Why?
Because of its affordable price quality, and of course, we agree with that. So, let's break out the values and features of the Optoma projectors and get yourself the best one ahead.
Comparison Table of Optoma Projectors 2023
Comparison

Optoma HD142x

Optoma HD143x

Measurements
(Inches)
9 x 11.7 x 3.7
9.7 x 12.5 x 4.2
Resolution
1080p (1920 x 1080)
1080p (1920 x 1080)
Brightness (Lumens)
3000
3000
Contrast Ratio
23000:1
23000:1
Input Lag
2xHDMI, Audio-out, 3D Sync port, 12V Trigger, USB Power
2xHDMI, Audio-out, 3D Sync port, 12V Trigger, USB Power
Lamp Life
(Hours)
Bright/Dynamic/Eco
5000/6500/8000
Bright/Dynamic/Eco
3500/10000/12000
Speaker
10W Mono
10W Mono
Image Size
27.88" - 305.5"
28" - 301"
Item Weight
5.5 pounds

5.5 pounds

Major Differences Between Optoma HD142x vs HD143x
Here are the top best products by Optoma for you. You will be likely to know the main difference between these two Optoma HD142x and Optoma HD143x.
Let's first start with the Optoma HD142x specs, this one provides you with the specs like 1920 x 1080 Full HD Resolution, 3,000 lumens, 23,000:1 contrast ratio, and as well as an 8,000-hour lamp life. Whereas the Optoma HD143x specs contain 1920 x 1080 Full HD Resolution, 3,000 lumens of brightness, 23,000:1 contrast ratio, and 12,000-hour lamp life.
Thus, we can see only one main difference between both products, and the difference is "lamp life."
Though the Optoma projector is the best option for everyone to enjoy an outstanding time at their place. But, as we show you the two main products by Optoma, you can see that all the features are the same in both products, except the lamp life.
OptomaHD 143x will give you more hours of lamp life as compared to the Optoma HD142x. And of course, the best projector is the one which provides you with more hours of lamp life.
But, still, Optoma projectors can offer you brilliant built-in features and exciting image quality. However, if you are more concerned about the price and higher lamp life, you should choose the OptomaHD 143x, as it gives you an extra lamp life of hours and an affordable price range.
Optoma HD142X Review – Best Optoma LCD Projector 2023
This Optoma LCD projector allows you to watch movies and even play your favorite games while experiencing exciting colors.
The Optoma HD 142x is the best option for you to enjoy with its 3000 ANSI lumens that may also get combined, including a sharp contrast ratio. You will surely love to use this projector and make your home into a type of mini home theatre.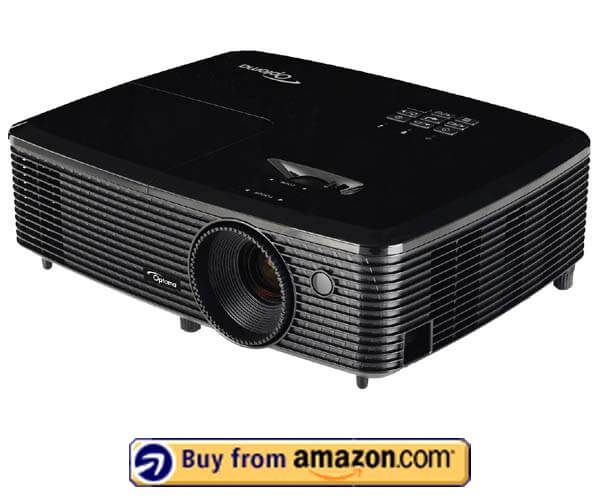 So, let's check out this projector's features where you may get the best resolution quality of 1920 x 1080 pixels to give you sharper and more detailed projection. Also, with the help of its extended lamp life that provides you with an impressive 8,000 hours.
Now, complete your mini home entertainment while introducing this projector inside your place to further get the experience of a powerful yet very energetic built-in 10W speaker.
However, the contrast ratio is also excellent, where you may get 23,000:1 to enhance the picture quality. And of course, you may get several connectivity options like wireless, USB, HDMI, and MHL, which will make your projector useful and very productive.
Pros
Several connectivity options
8000 lamp life
Great picture quality
Lightweight
Compact in size
Cons
It is costly and delivers poor picture quality.
Why Should You Buy This Projector?
You should buy this projector if you want to experience the wireless connectivity feature. This projector offers you a wireless connection as well so that you can get the connections quickly.

Optoma HD143X Review – Best Optoma Projector 2023
Bring the dynamic quality and cinematic experience to your home, which gives you the highest contrast ratio and of course, a huge lamp life. However, this is the best projector in 2023, which gives you the ultimate way of fun and excitement over to your place, and you won't get disappointed again.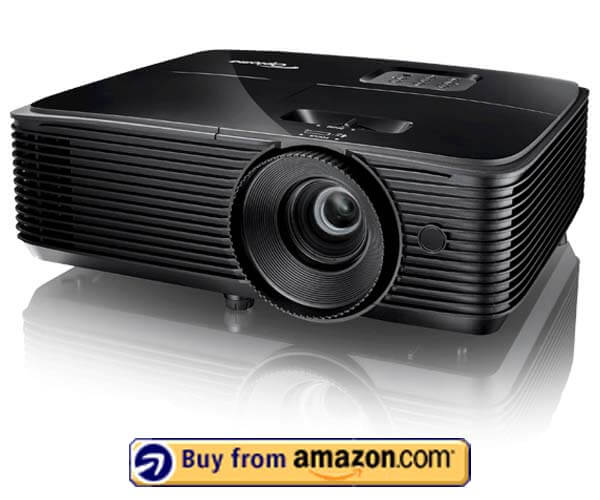 Optoma HD143X is a very affordable projector for you in which you will get 1080p resolution, which delivers to you extraordinarily sharp video quality. You will be enjoyed the perfect result for your movies, gaming, and as well as sports.
It may also provide you with extended hours of lamp life to almost 12000. Its lamp life is too good, especially for gamers who want to use projectors for a long time period.
And of course, don't forget to notice its high contrast ratio (23,000:1), which always delivers to you excellent picture quality and enhances sharp colors.
However, this HD 143x is the most affordable projector for enhancing the quality and advanced features. It may also give you different connectivity options to make your projecting time more successful and enjoyable. Bring out the cinematic experience to your home right now.
Pros
Lightweight
12000 huge lamp life
Good in quality
Affordable
Cons
It doesn't have a compatible MHL.
Why Should You Buy This Projector?
You should buy this one if you are looking for a budget-friendly projector. This HD 143x comes under a full-budget price which anyone can afford it so easily.

Optoma HD142x vs HD143x – Buyer's Guide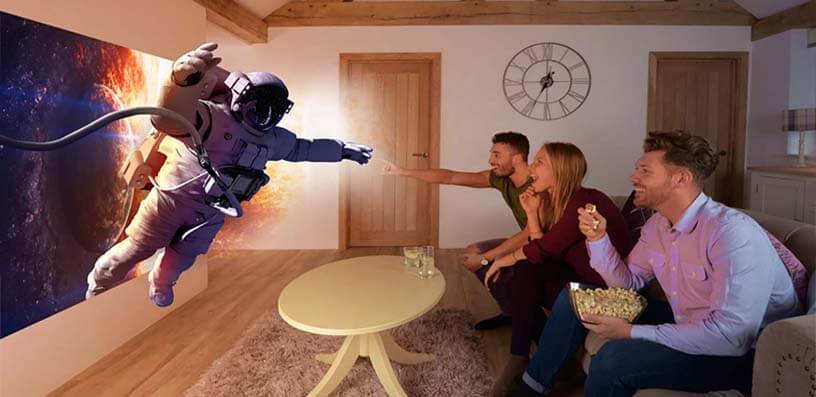 Features to Consider Before Buying Best Optoma Projectors 2023
When it all matters to the vital stats such as the contrast ratio and brightness, these two models usually are equal to each other. Whereas the main differences among them are already shown to you above, in which you can notice the main difference is the lamp of life, and nothing else.
However, seven key features will perfectly classify the difference between these projectors:
Resolution
According to the Optoma HD142x manual, this product will provide you with a Full HD resolution of 1080p. The Optoma HD143x manual feature shows us that the resolution is also HD 1080p. So, there would be no such difference in the quality resolution of these two.
Brightness (Lumens)
We know both products may offer you a brightness of 3000 lumens. In HD 142x and 143x, you will find the same lumens of brightness, which increase the picture quality and allow you even to view your image in the sunlight.
Contrast Ratio
HD 142x offers you a contrast ratio of 23,000:1, and as well as HD 143x also gives you the same ratio, which is 23,000:1. So, no such difference still be shown between these two.
Lamp Life
The lamp life of any of the best projectors for outdoor movies is really important, which gives you a moment to utilize your projectors according to them. However, the HD 142x of its lamp life is around 8000 only, whereas the HD 143x is about 12000. Now, that's a big difference we can see between these two.
Throw Ratio
This number shows you the actual image size after incrementing with each measure of the distance between the projector and as well as the screen.
There is a compatibility between the max screen size of these two projectors, and in that case, both will provide you with the same feature. The Optoma HD142x throw distance is about 1.47 – 1.62, and the Optoma HD143x throw distance is 1.47 – 1.62.
Connectivity
The HD 142x may provide you with Wireless, MHL, HDMI, and USB features in which you can easily make your projector into the form of a smart display through the connecting process of a smartphone or even a tablet. You can connect everything through its single cable.
However, the HD 143x gives you the connectivity option of VGA, USB, and HDMI. So now, it's up to which one you want to choose for your next projecting task.
Portability
Both Optoma HD142x and HD143x are portable enough to satisfy your needs, and full fill your requirements. Made with strong material and hardware which will give you lasting effects of projecting to your life.
What Do Other People Say About Optoma HD142x vs HD143x?
We asked thousands of people what is the best Optoma projector 2023 between HD142x vs HD143x. And people are more concerned about Optoma HD 143x.
Why?
Because HD 143x is more reliable and affordable as compared to HD 142x.
The Optoma HD143x may also provide you with a bigger lamp life of 12000, whereas the HD 142x only gives you 8000 lamp life. So, people prefer 143x over 142x. Thus, the bigger lamp life is the unique feature that people highly recommended HD 143x three times more.
Frequently Asked Questions
Which is the Best Projector for the Money, Optoma HD142x, or HD143x?
If you want to choose a good quality projector, but your budget is low, we suggest selecting the Optoma HD 143x. This projector is very affordable and provides you with a cost-effective moment.
Can I use HD142x as A Presentation Projector?
Well, for presentations, we usually want a projector that may offer us quality work and accurate brightness. If you are considering your presentations, you can choose the Optoma HD 142x, which gives you 3000 Lumens.
Which Projector is Better?
We can define you with an example of a rating. Optomahd 142x (total rating of 100/78), whereas Optoma HD 143x (total rating of 100/66).
So, what we think is that HD 142x is perfect for your daytime/nighttime projecting (but it is much more expensive), and HD 143x is ideal for your nighttime projecting only (and it is very low in budget and affordable).
Just bought the HD 142x, should I buy the HD 143x?
Well, we have not seen a big difference in both versions. However, the HD 142x can offer you a gorgeous picture, and 143x (its updated version) will also provide you the same but at a cheaper price tag.
Conclusion
So, that's the end of the Optoma HD142x vs HD143x review comparison! We hope you like the reviews and the main differences between these two. However, both products are very similar and offer you a variety of features and qualities.
People are still more likely to choose Optoma HD 143x because of its compact design and long hours of lamp life. So, it's up to you which one you choose ahead of. And of course, don't forget to share your thoughts and experience with us through our comment section below.