As an Amazon Associate, I earn from qualifying purchases. If you make a purchase through links from this website, we may get a small share of the sale from Amazon.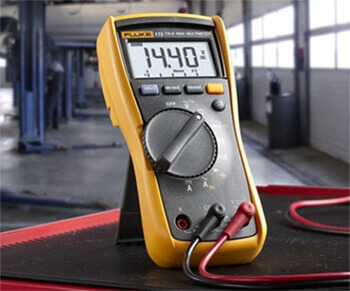 Are you searching for the best multimeter or multitester? Do you really know what a multimeter is?
A Multimeter is one of the preferred tools by electricians, which are used to troubleshoot the electrical problem of electricity.
Multimeter is an Electronic Instrument that Combines many Electronic Measurement Capabilities in one unit.
Typically, multimeters are capable of measuring resistance, voltage, and current. Multimeter comes in analog or digital form. People today prefer digital multimeters (like Fluke multimeters).
People use multimeters to troubleshoot any electrical problems in power supplies, wiring systems, appliances, and batteries. They can cost anywhere from $10 to thousands of dollars. For accurate and safe home use, the multimeter in the $25 range is usually adequate.
Learning how to use a multimeter is a matter of knowing a few basics and practicing common sense and safety measures.
Higher DC voltage ranges, resistance, AC, and current will have lower accuracy.
Some multimeters include a fuse to prevent overload damage,  which will protect the highest current range on the meter. One standard error people make when learning how to use the multimeter is setting it to measure resistance or current but connecting it to a low-impedance source of voltage.
Meters that don't have a protective fuse are easily damaged when this happens, and they can explode and cause injury.
Fortunately, meters that can be interfaced with computers have optical isolation that protects the computer (and the operator) from high voltage. Top multimeters are rated and placed in categories based on their intended use.
The top multimeter comes in four categories, which are as follows:
Category I (used with low current levels).
Category II (for residential branch circuits).
Category III (for use on distribution panels, appliance outlets, and motors).
Category IV (for high current levels, such as in main panels, house meters, or service entrances).
All category-rated meters have protection from over-current faults.
Best Qualities
As an individual dealing with electricity, high-quality multimeters will be an essential tool to have. Since they come from a variety of manufacturers, you need to find the ones that will meet your company's needs. These tools have proven essential when dealing with electrical currents and help maintain a safety level.
As we look at some of the available options for the different multimeter units on the market, keep in mind that quality was considered over price. While the price may be a driving factor for some, you often get what you pay for. These items are not ranked in any particular order, so no preference is given to any of the products at all.
New multimeters can be purchased with a calibration certificate stating that the meter is adjusted to the National Institute of Standards and Technology (NIST) standards.
Sometimes older equipment can be recalibrated. Multimeters used in critical measurements will need to be periodically recalibrated for continued accuracy.
Top-Rated Multimeter 2023 Reviews
Here we discuss the top 5 multimeter reviews so that you quickly choose the top multimeter of 2023 easily. Thus, looking at all these above features, we designed a definitive list of the top-rated multimeter 20232, which will be under your budget.
Mastech MS8268 Digital Multimeter – Best Multimeter Under $50 2023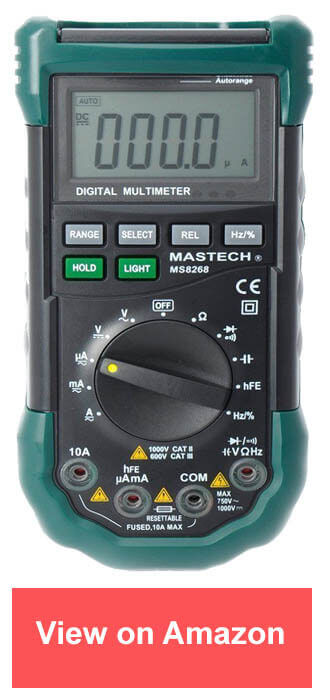 The process should begin with the most affordable option we will list. The Mastech MS8268 multimeter offers some features that many will find useful.
It starts with a generous screen that comes with a backlight since there will often be times when the lighting will be limited. Mastech MS8268 also has safety ratings for both CAT II 1,000 V and CAT III 600V.
Best of all, this tool has security features that keep the operator safe and make this best multimeter under $50. If you find that you accidentally switched the plugs, an alarm with a warning screen will pop up to start working it.
Then, if you exceed the maximum rating for voltage, a built-in fuse will prevent you from receiving an electrical shock. This feature makes it one of the safest options in the market that you will find.
More importantly, it offers a high level of accuracy and proven performance as well. No doubt, it is a brand you can trust.
Features:
Alternating Current/Direct Current 1000V/10A 200KHz 200uF 40Mohm relative estimation HFE Diode Check Continuity.
The LED/sound warning is given.
Auto and manual are running with relative estimation.
Full overburden security and double protection insurance.
Auto control off (could be handicapped).
The best home multimeter has auto control off and a low battery sign.
The best electrical meter has a blue LED illuminated LCD show.
Conform to the IEC1010-1 standard CAT III 600V and CAT II 1000V.
Caution in Sound and light that are inaccurate embeds the information plug.
Good cheap multimeter programmed sign of capacities and unit images.
The best cheap multimeter has full overburden security and double protection insurance.
Separable embellishment elastic case, shock-verification, slip confirmation, and great touch feeling.
This good cheap multimeter uses three "AAA" batteries.
Pros
Affordable price.
attractive packing.
A good multimeter is made up of suitable material.
Excellent Display (Good Contrast and Bright Backlight).
Quick to Respond.
Easy to Operate.
Cons
The screen Backlight Turns off after 2 seconds.
Fluke 87V True RMS – Best Multimeter for Electronics 2023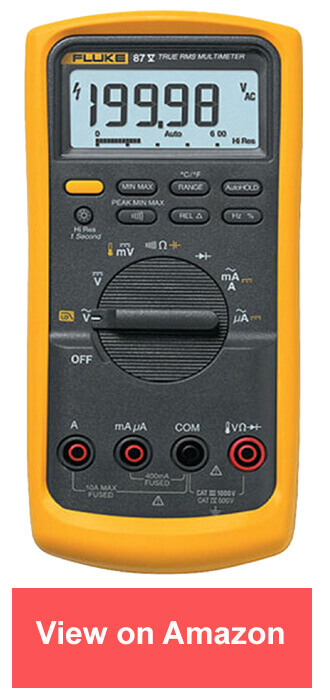 This multimeter is one of the top brands you will end up finding. They offer such an instrument defined by precision and precision; it provides a superior option to those looking for high-quality trustable results.
One notable feature that will impress many people is the RMS multimeter offers the ability to give items a consistent and accurate output that typical standard multimeters failed to provide, as most conventional multimeters fluctuate in their readings.
It means that no matter how "noisy" the equipment is regarding electricity, you will get the required reading from this good multimeter. You can stick it anywhere that can hold magnets, thanks to the mounting system.
No matter what are your overall needs, this multimeter is determined to meet them all.
Best of all, this tool allows you to work hands-free while you begin to diagnose with the available extensions on the product. It offers such a user-friendly design that makes it ideal for various situations.
Features:
One-of-a-kind capacity for exact voltage and recurrence estimations on other uproarious gear.
Illuminated keypad catches.
Extensive, 2-level, beautiful white, illuminated show.
Fluke 87V has a lifetime warranty.
Fluke digital multimeter has a simple structured presentation for quick changing or temperamental signs.
Best Fluke multimeter has genuine RMS AC voltage and current for precise estimations of non-straight flags.
Selectable channel for precise voltage and recurrence estimations on engine drives.
It recurrence of 200 kHz and a % obligation cycle.
Information Alert gives perceptible caution against the wrong utilization of information jacks.
It enhanced selectable rest mode for long battery life.
Working in a thermometer advantageously enables you to take temperature readings without carrying a different instrument.
Colossal digit show with brilliant, two-level backdrop illumination makes it essentially less demanding to peruse.
Best electronics multimeter has a combo pack that incorporates uncommon accomplices to make mechanical investigating considerably more profitable.
Auto and manual are extended from the greatest adaptability.
Pros
Reliability, Accuracy, and Precision.
Easy to Use.
Excellent Quality.
Auto Hold Function.
It is Ideal for a Professional/Expert Electrician.
Has to holster for storage.
Cons
It has a small display screen.
A bit expensive as compared to others.
It is complicated for newbies.
Fluke 115 True-RMS – Best Budget Multimeter 2023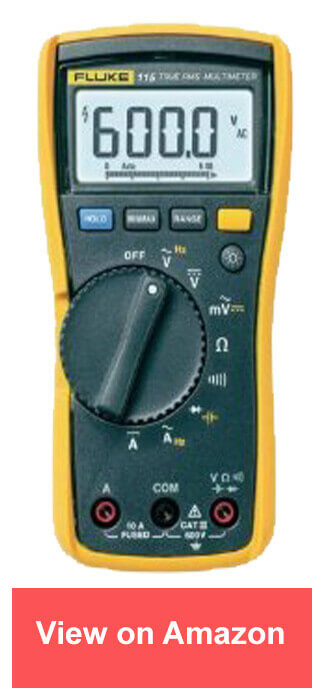 Those looking for a more casual approach to the Fluke brand should take note of this multimeter. While it still offers the power and quality expected from this brand, it doesn't have sophisticated features that could make it challenging to use for the average individual.
If you are looking for a more compact model, this is a perfect choice. This best budget multimeter is significantly smaller than some of its sister products and still offers this product line's main features.
Fluke 115 includes the backlight display and various modes and consists of both minimum and maximum averages. More importantly, just because it is compact doesn't mean it will give up on your safety.
It prevents you from experiencing the effects of a surge while you are operating this unit.
Since it is a more compact solution, you don't have to worry about lugging around a standard-size unit, and instead, you will be able to take the Fluke 115 into narrower spots that can be tricky to use other groups in.
Features:
The best value multimeter has auto-ranging.
The best inexpensive multimeter has a large backlight display.
The multimeter for home use has an LCD Screen.
The best fluke meter has perfect RMS.
Can read 10A continuous Load.
The best digital multimeter has a diode tester.
CATIII 600v safety rated.
The best digital multimeter for electronics comes with a compact design.
Auto Power off.
Low Battery Indicator.
9V battery.
Accurate rating.
Precise.
Pros
Lightweight.
Portable.
Compact Size.
Durable.
Easy to use.
Safety Rated.
Cons
Lack of the ability to measure Milli AMPS and Micro AMPS.
Sometimes give the issue in a while reading low DC Voltage.
Fluke 77 Series IV – Best Automotive Multimeter 2023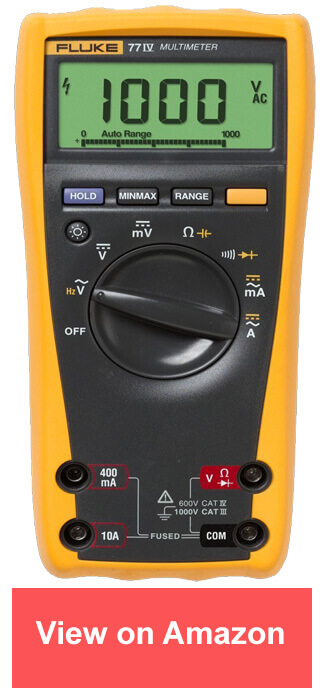 Finally, the multimeter we must look at is also a Fluke model. With this product, you will have a do-it-yourself solution that won't break the budget. It has been designed as user-friendly and compact, yet functional, designed for the homeowner looking to handle their repair work.
While you might find there aren't all the bells and whistles the professional model has, it does contain enough that the average homeowner will be able to put it to use and get the results they need, with minimal investment.
Each of these units has some remarkable features that make them high-quality choices for the individual looking to learn about multimeters or do it yourself.
It has been projected with enough efficiency that it can be safely done all the way up to the professional that needs the best to get their job done right.
Features:
The automotive voltmeter is very lightweight.
Compact.
The automotive multimeter has three years warranty.
Best voltmeter Built with excellent quality material.
CATIII 600V Safety Voltage.
Non-contact voltage detection.
It helps in preventing false readings (caused by Ghost Voltage).
It Accurate measurement of non-linear loads.
Electric multitester measures 10A.
True RMS.
Large LED display.
Bright backlight for low-lit areas.
Auto Detect AC/DC voltage.
Capable of measuring Frequency and Capacitance.
Pros
A good voltmeter is easy to use.
Portable.
Light Weight.
Compact.
One-handed operate.
Bright LED backlight.
Accurate Measurements.
Cons
Doesn't provide an accurate reading of Mili AMPS and Micro AMPS.
INNOVA 3340 – Best Digital Multimeter Under $100 2023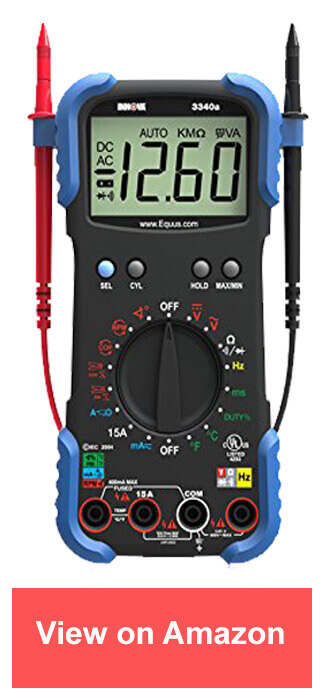 The INNOVA 3340 Automotive Digital Multimeter is an excellent multimeter. The expert quality highlights help pinpoint motor issues while the 10 MegOhm impedance anticipates harm to the ECU.
Incorporates a temperature test to gauge the temperature in both Celsius and Fahrenheit. Utilize the inductive get-to-vehicle RPM (counting curl on plug vehicles). This unit gives sans hands testing and incorporates test lead holders.
Innova multimeter has a bright backlight, auto closes off, finished load security, programmed zero alteration, and turns around extremity assurance. The min/max and hold caches spare recovered information, and the tough corner watches give drop assurance.
The INNOVA 3340 of this series, better than Innova 3320, is extraordinary for testing alternator diodes, obligation cycle, solenoids, breaker focuses, wiring, and switches.
Features:
Proficient quality highlights help pinpoint motor issues.
Auto-Ranging, auto-stop, over-stack security.
The unit is UL recorded and includes 10 MegOhm input impedance for the safety car and family employment.
Incorporates Temperature Probe.
The multimeter measures inductive RPM pickup and vehicle RPM (counting curls on-plug vehicles).
10 MegOhm impedance averts harm to ECU (motor control unit).
The best digital voltmeter measures up to 15 amps for gadget testing.
Tests alternator diodes, obligation cycle, solenoids, breaker focus, wiring, switches, and that's only the tip of the iceberg.
Pros
Easy to Operate.
Affordable.
Portable design.
It has a Multi-Lingual Direction.
Wide Variety of Function.
Cons
The Backlight is not bright.
Inconsistent RPM Features.
Uses Of Multimeter 
The first step to learning how to use the multimeter for the money is to become familiar with its parts. Digital multimeters, such as a Fluke multimeter, will have a digital readout. A selector knob allows the multimeter to change functions (to measure volts, ohms, amps, etc.) and scale readout ("x1," "x10," "x 100″).
Voltage, for instance, can have multiple ranges. It is essential to set the scale to the proper range to prevent damage to the meter. Some meters have the "off" switch on the selector knob, but some have a separate on/off switch altogether. It should always be switched off when it isn't being used.
There will be at least two jacks in the case for inserting the test leads. On a Fluke multimeter, there are three. One will usually be labeled with "COM" or a minus sign to indicate "common" and "negative."
The com / minus sign jack is where the black test lead connects, and it is used for almost every type of measurement. The other jack will be labeled "V" or with a plus sign and omega of volts and ohms. The plus and minus signs stand for the probe polarity when testing DC volts.
The red lead would be positive and the black negative.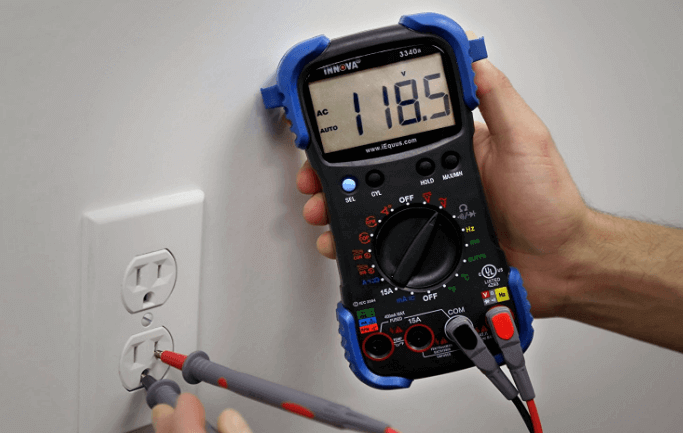 The third jack is for performing current tests. The test leads must be connected to the proper jacks, and the selector switch must be set to the correct range and test type for the multimeter to function properly and safely.
The multimeter will also have two test leads, one black, and the other red. The battery and fuse compartments are usually found on the back of the meter but might be on the side. The battery supplies the power for testing resistance. The fuse protects against voltage overload.
Measurement of  Resistance, Voltage, and Current by Digital Multimeter
Resistance:
To measure resistance, set the professional multimeter to "resistance" or "ohms" mode and turn the meter on if it uses a separate power switch. Resistance and continuity are opposites, so continuity can be measured indirectly by measuring resistance.
"If the two test leads aren't touching anything, then resistance is infinite, and continuity is zero."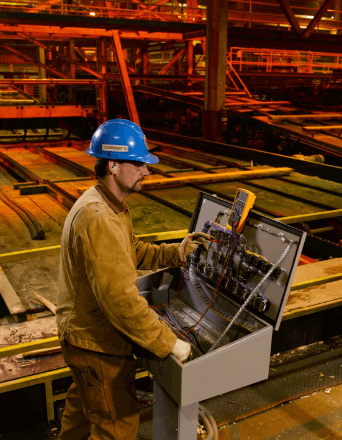 First, connect the black lead to the "COM" or minus sign jack, then connect the red lead to the omega, or plus sign jack. Set the range knob to "R x 100." Then hold the probes at the other end of the test leads together. The meter should read zero.
To learn how to measure a working light bulb's resistance with the multimeter, first locate the two electrical contact points on the light bulb: the threaded part and the middle of the bottom of the base.
Have someone hold the bulb by only the glass. Then touch the black probe against the threaded part and the red probe to the middle of the bottom of the bulb base. The display should read zero.
Voltage:
To learn how to use a voltmeter to measure voltage, first set the meter for the highest range provided. Since the voltage to be measured is not always known, the upper range is used so that the meter will not be damaged if the voltage is higher than expected.
For example, if the meter were set on the 50-volt range, and you were to test a normal (U.S.) 120-volt electrical outlet, you could overload the meter and damage it.
Start at the highest range, then step down. Use the lowest range that can be displayed safely. Insert the black probe into the "minus" jack and the red probe into the "plus" jack as before. To test a 120-volt electrical outlet, "plug" the black probe into one of the rectangular slots on the electrical outlet.
Then put the red probe into the other slot. At that time, the meter should read 120, or close to it. It is OK to step down to the proper voltage range for 120, and the reading there will be more accurate than on the highest voltage scale.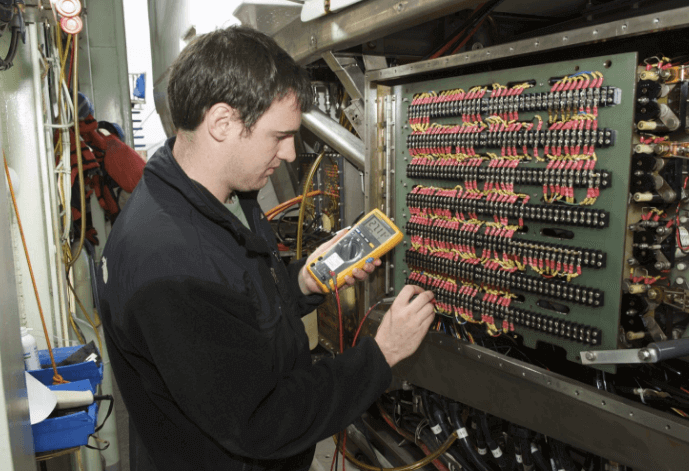 If the value was zero, there is a good chance that you had the meter set to DC rather than AC because the modes are not compatible. 
If the mode is set to DC, a user could mistakenly think that there was no voltage present when there was, and this mistake could be deadly. If you get a zero voltage reading on a known working voltage source, check the mode. If necessary, set it to AC mode and repeat the test.
It is best to connect one probe in a way that you won't have to hold both while testing. Some multimeters (such as Fluke multimeters) have special clips or clamps for this purpose.
Current :
To learn how to use an ohmmeter to measure amps, first determine if the machine is in AC or DC mode and set it as appropriate. Set the multimeter to the highest range supported. It is important to note that if the circuit you are testing is AC, but the meter only measures DC or vice-versa, then stop.
Most home or personal multimeters only measure the minimal electric current amount in the milliamp and microamp ranges. These are present values that flow in miniature electronic circuits. It the several orders of magnitude smaller than the automotive or home circuits that people may want to test.
For example, a 100-watt light bulb connected to a 120-volt outlet draws 0.833 amps, which would probably damage and even ruin a home multimeter. It would be better to use a clamp on the ammeter, which does not require opening the circuit. To test a 9 volt DC, 4700-ohm resistor circuit, insert the black probe into the minus jack as before. But insert the red probe into the "A" (amps) jack.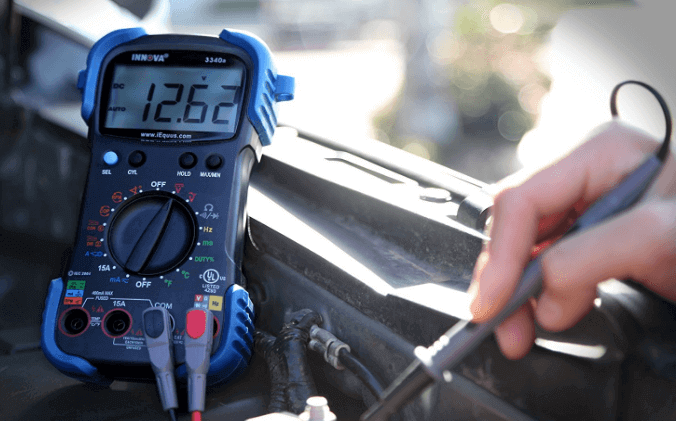 Cut off power to the circuit. Open the part of the circuit you want to test: one lead or the other of the resistor. Next, insert the meter such that it completes the circuit (in series). An ammeter can't be placed across a circuit like you would use a voltmeter, or else the meter can be damaged.
Current flows from the positive to the negative side. 
Choose the range of current that is highest. Next, apply power and step down through the ranges to get the most accurate reading on the dial. You should see a reading of approximately two milliamps since the current is equal to volts divided by ohms, which is just under two milliamps.
Learning Tips 
When using a multimeter, mainly when learning how to use a multimeter, check the meter on a known working voltage source to ensure that it is working correctly.
A broken voltmeter will always indicate zero volts, even if there is voltage present. 
Never connect the meter across a battery or other source of voltage to measure current. It will ruin the meter, possibly making it explode. The most critical step in learning how to use the multimeter is to realize how dangerous electricity is. If you don't understand something, look it up or ask a knowledgeable source before using a multimeter.
Conclusion
Multimeters come in different styles and categories, Some of them are commonly used in our routine life, but some other models are used for commercial and professional purposes. In this article, we review the 26 different models of multimeters that are available in the market, and all the features discussed here will help you select the best one.
Now you know all the features of the multimeter. It helps you a lot to buy the best budget multimer from the above-reviewed multimeters. Let us know if you have any questions. Feel free to ask via comments about the best multimeter.