As an Amazon Associate, I earn from qualifying purchases. If you make a purchase through links from this website, we may get a small share of the sale from Amazon.
Are you having trouble with smudges on your projector screen? If your answer is YES, you have reached the right place. We are covering in detail how to clean a projector screen.
If you are a projector maniac, just like me, everything about projectors is fun and games. Maintenance of your backyard projector and its screen is your first priority. No, I haven't read your mind. We're just alike.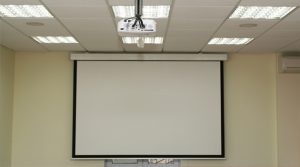 Learning to clean a projector screen is going to save your dollars spent on it. If you have spent a large amount of money on your projector screen, throwing it away should be your last resort.
It would be best if you didn't even consider it. Get to know all the basics of projector screen cleaning with this comprehensive guide.
Why Do I Need To Clean My Projector Screen?
Projector screen care is necessary. For proper functioning and a clear display of the top-quality 4K projector, the screen needs cleaning. This means, that regardless of investing in the projector screen, skipping the cleaning process is not an option.
Imagine this, investing a fair amount of savings in a home theater projector under $500 but the screen in no time starts displaying a crooked image. Quite problematic, right? The screen is extremely delicate, hence vulnerable to dust particles that are likely to make your screen look dirty.
Now, if you're not keeping the screen covered when it's not in use, it definitely will be damaged sooner or later. Covering your screen, however, does not mean it will never require cleaning. Even if you put the cover on your projector screen, it will have dust on it over time.
It would be best to clean your projector screen to maximize the display results and enjoy your movies, show, or presentations to their fullest. Hence, getting to know the art of how to clean your projector screen is your best shot at saving your projector.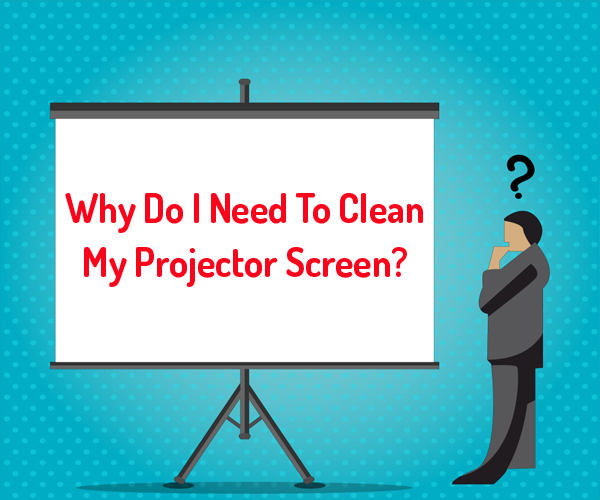 Tools Required For Projector Screen Cleaning
You know how they say, weapons can be a double-edged sword? Unless, in this case, weapons are our best friend. Before you grab a cloth and start scrubbing, you need to know how fragile your projector screen might be.
How to clean a projector screen?
First, understand what you are going to need. Cleaning tools are essential and, in every case, might differ. For instance, you surely do not want any powerful cleaning agent ruining your projector screen.
Your living room projectors can be saved by keeping these tools with you at your home or anywhere you keep your movie projector.
Microfiber Cloth
These clothes are not only super absorbent but save a lot of money too. Help clean away the dust in particular. Keep about 4-5 pieces, at least.
Lukewarm Water
You will need lukewarm water to dampen the cloth in it.
Dishwashing Liquid Soap
We have warned you about using a too-powerful washing agent. Dishwashing soap is relatively weak but does the required work.
Gloves
Gloves save your hands from dirt and your projector screen from your fingernails. You can never be too careful when it comes to your projector screen, can you?
Any other item besides it can be optional. You can use it if you are going for a deep cleanse. Otherwise, everything mentioned above will do the work perfectly fine. If you have gathered all these above items, you can finally start your venture on cleaning the elite projector screen.
How To Clean A Projector Screen In 2023
No further need to hold your horses. All that you will require has already been discussed earlier. Now, it's time to get started. We have already established your short-throw projectors will not survive without the cleaning process. Once you have everything you need, the task of cleaning a projector screen will be pretty easy.
First things first. Put on your gloves. This will avoid your fingernails from scratching away the screen.
Grab the microfiber cloth and lightly dust off the screen.
Dust it off entirely with the dry cloth without leaving any area.
In a bowl, take some warm water and a tiny amount of detergent. Mix them and soak a new piece of microfiber cloth in it.
With gentle strokes, wipe the projector screen.
Remember to be extremely cautious. Up and down motions will likely do the work.
Repeat the same process but this time, with water only.
Make sure that the screen does not have any trail of soap on it.
Clean it away with a cloth soaked in water only.
Taking a clean and dry cloth, wipe away the screen again.
This shall be your last step in the cleaning process. A dry cloth will ensure that water does not accumulate on the projector screen.
Clean an outdoor projector screen has been made like a piece of cake for you. Once you have cleaned the screen, set it up, and switch on your portable projector.
If you don't see any marks, your hard work has finally paid off. We have clearly shown all the aspects of a clean outdoor movie screen with some quick steps.
Conclusion
Handling technology can, at times, be tricky. However, if you do little research and invest your time in maintaining them, they will stay with you for a reasonable period.
This article has been precisely made for you to get the hang of how to clean a projector screen. The tools mentioned are easily accessible everywhere. All you need is the courage to save your screen.
As mentioned earlier, cleaning the projector screen is hugely important. If your projector screen does not show the image quality it used to deliver earlier, there is your hint. To get a crystal clear picture, and obtain the best results, clean your projector screen regularly.