As an Amazon Associate, I earn from qualifying purchases. If you make a purchase through links from this website, we may get a small share of the sale from Amazon.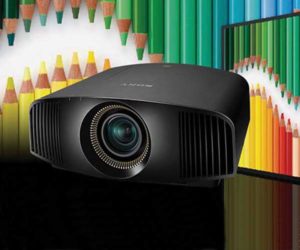 If you are looking for the best 4K projectors, then SONY would be our best recommendation. But the question is which one is the best option to go for. Let's have a detailed comparison between Sony VPL-VW295ES vs VPL-VW695ES.
SONY isn't just good in services, but as well as, their products have been made with in-depth features like accurate color contrasts, brightness level, big-screen viewing experience, and much more.
Yes, in this comparison article, we will show you the main differences between these Sony projectors and also announce the winning projector at the end of the discussion.
So, let's watch out for the Sony VPL projector differences between Sony VPL-VW295ES vs VPL-VW695ES and pick the best one…
Sony VPL Projectors Comparison Table
| Comparison | Sony VPL-VW295ES | Sony VPL-VW695ES |
| --- | --- | --- |
| | | |
| Measurements | 18.2 x 19.5 x 8 in | 25.24 x 21.69 x 12.48 in |
| Weight | 37.48 lbs | 37.48 lbs |
| Projection Type | SXRD (3 Chip) | SXRD (3 Chip) |
| Resolution | Full 4K (4096 x 2160) | Full 4K (4096 x 2160) |
| Brightness | 1500 lumens | 1800 lumens |
| HDR | Yes | Yes |
| Contrast Ratio | Not Applicable | 350,000:1 |
| Throw Ratio | 1.38 to 2.83:1 | 1.38 to 2.83:1 |
| Lamp Life | 6000 Hours | 6000 Hours |
| Lamp Power | 225 W | 280 W |
| Lens | Standard 4K Lens | Standard 4K Lens |
| Power Consumption | Full Brightness: 390 W | Full Brightness: 460 W |
| Connectivity | HDMI | HDMI |
| Warranty | 3 Years | 3 Years |
Main Difference Between Sony 4K Projectors
Well, technically, what we observe about these two Sony VPL-VW295ES and VPL-VW695ES is their brightness differences and throw range.
However, there are so many similarities found in these 4K projectors, such as they are the same giving you the same lamp life, connectivity, lens, speaker, HDR, and 4K qualities.
Furthermore, the Sony 4K projector SXRD offers you absolute HD graphics and clear picture quality, and that's why we choose these two projectors as they are built with 4K quality and become the best Sony 4K projector.
However, the projector 295ES offers you a brightness (lumens) of around only 1,500, whereas the projector 695ES provides you with extra lumens of 1800. So, that means, here is the winning champion is the projector Sony VPL-VW695ES.
Though the projector 695es is a little bit broader in its measurement and it may also take enough space in your home theatre. Whereas the projector 295es is a very small body and compact size, which means you can easily put it anywhere without taking up much space. 
Also, both Sony projectors are too good at providing you with the best viewing experience, and also, they are best in the built quality as well. So, if you want to buy a projector for your professional use, such as for your presentations, or playing games, then we suggest you choose Sony VPL-VW695ES because it will provide you with better brightness (lumens).
Sony VPL-VW295ES Review – Best 4K HDR Home Theater Projector 2023
So, before heading towards the main differences between Sony VPL projectors, we like to show you the actual product VPL-VW295ES review here. However, this projector also comes up with the Sony VPL-VW295ES manual, where you can get all the instructions to make a quick setup for the projector.

The VPL-VW295ES lamp provides you with a brilliant 6,000 long hours capacity so that you can enjoy watching your projecting time ahead. Also, the projector offers you its built-in features of native 4K resolution mode, where you will get 3 SXRD imagers display resolution of 4096×2160 pixels for experiencing ultra-high definition viewing.
Also, it has made HDR compatible to further deliver to you a broader contrast experience so that you can improve with the vast colors and realism. Thus, it will also show you the triluminos display to observe a broad spectrum of hard so that it can reproduce tones for bright, and rich true-to-life colors.
Features
It has made the super-resolution 4K more upscale to make sure to analyze every pixel for giving you enhanced imaging easily.

With the smooth and lifelike motion, you will experience with the help of its 4K and HD qualities, you will enjoy watching a movie, video games, sports, and as well action videos.

In the box, you will get its remote control, AC adapter, manual guide, and lens cap.
Pros
HD viewing experience

Light in weight

Brilliant color contrast
Cons
The sound system is really low in volume.
Why Should You Buy This Projector?
You should buy this projector from Sony because of its HD viewing experience, and it is very easy to set up at first. So, if you are looking for something with a hassle-free setup, pick up this projector.

Sony VPL-VW695ES Review – Best Sony 4K Projector 2023 –

Editor's Choice
In the case of Sony 295es vs 695es, we are here to show you the complete review of the 695ES projector. This VPL-VW695ES will be offering you some sufficient extra features where you can enjoy watching the HD quality resolution, and it will also give you the right and balanced color contrast.

Made with the full 4K resolution while offering you 4096 x 2160 pixels so that you can experience exceptional viewing.  However, built with three SXRD imagers for giving you full-color brightness so that you can even enjoy watching your favorite sports, action, games, and much more.
Also, the feature of its high dynamic range will perfectly bring out a wider contrast range so that you can also improve realism and watch out for realistic graphics on your big screen. And, of course, don't forget to watch out for its Motionflow technology, which may further provide you with actual smooth motion for giving you the qualities of 4K & HD. 
Features
Built with the 350,000:1 dynamic contrast along with Advanced Iris that makes everything so pure and colorful.

High-quality brightness lumens that would be around 1800, so that you can enjoy watching your favorite videos with such a realistic brightness level.

The package has come up with its remote control, AC Power Cord, Size AA (R6) manganese batteries (2), Operating Instructions (CD-ROM), Lens Cap, and Quick Reference Manual.
Pros
Compact in size

Smooth motions

Brilliant viewing experience
Cons
It is a little bit expensive.
Why Should You Buy This Projector?
You should buy this projector because of its HDR & 4K qualities, it will give you all the necessary features to enjoy your projecting time, whether it could be a movie or something professional like presentations.

Sony VPL-VW295ES Vs VPL-VW695ES – Buyer's Guide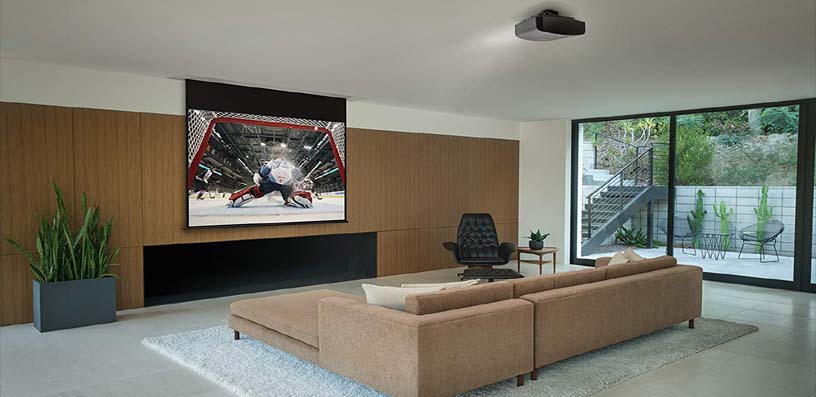 Features To Consider Before Buying The Best Sony Projector 2023
If you want to get the best Sony 4K Projector 2023 then you should pick up the one between these two Sony projectors, and here we are going to show you the features of the projector which you need to know before buying:
Resolution
Always make sure to choose the right projector that may offer you the highest resolution mode like 4K with the power of 4096 x 2160 pixels, so that you can enjoy the sharp, and crispier picture quality along with the brightest color contrast.
Brightness (Lumens)
Brightness (lumens) would be the main feature you can look for in the best 4K projector. However, the more lumens it would be, the more you can enjoy brighter pictures. Lumens with 1,800 or more are the best option for you, try to get a projector with extended lumens.
Also Read: How Many Lumens Do I Need For A Projector?
Contrast Ratio
The contrast ratio is the factor that balances the quality of color and the sharpness of projection. If you want to enjoy the realistic picture quality of projectors, then grab the projector with a contrast ratio like 500,000:1
Lamp Life
Choosing the best 4k projector which offers you a lasting lamp life hour. However, the lamp life hours of any projector are the feature that will provide you with the longevity of using the projector, the more lamp life it would have, the more you can use the projector.
Lens Focus
Lens focus is the entire main feature of any projector, and sometimes, people just ignore this factor and then complain later about the bad picture focus or no sharpness at all. That's why choosing a projector with an accurate lens focus is very important.
Throw Distance
Throw distance will give you the factor of how far you can place your projector on the screen. The projector's throw distance should be long enough so that you can set the projector to a distant level from the screen.
Motion Processing Projection Technology
This will provide you with a smooth, and as well as lifelike motion for experience, the high quality of 4K and HD movies, games, action videos, and sports as well.
Wide Range
You should choose the 4K projector that can offer you a wide range of colors and tones as well in the projected image so that you can enjoy the features and clarity of the picture quality.
Connectivity
HDMI ports are the standard option you can find in the connectivity of the projectors. These ports can allow you to get an easy connection to any compatible device.  However, some projectors also come up with the wireless connectivity option as well, but they are much more expensive.
Image Quality
There are different types of standard resolution formats available for projectors such as XGA (1024 x 768 pixels), HD (1920 x 1080 pixels) WXGA (1280 x 800 pixels), and as well as the 4K = (3840x 2160 resolution). Whereas, the resolution which you measure out in a projector is the thing that gives you the clarity of the projector image.
HDR/SDR Mode
These modes are the reason behind giving you sharp, clear, and crispier picture quality. If you want to use the projector for watching HD movies and other types of videos, then these modes should be available on the projector.
3D Viewing
To get the 3D viewing experience, you have to buy a projector that has already built-in this feature. This feature will give you brilliant picture quality and color contrast.
What Do Other People Say About 

Sony VPL-VW295ES vs VPL-VW695ES – Which One Is The Best Option To Go For?
Choosing the best Sony projector would be an ideal option for everyone out there who wants to experience such exceptional viewing quality.
However, here in this comparison, you will find out which one is the right choice for you. The best Sony 4k projector offers you brilliant color contrasts, high dynamic range (HDR), extended lamp life (hours), sufficient brightness (lumens), and of course, an exceptional pricing range.
The Sony 4k projector would give you hassle-free setup time, these projectors by SONY can also provide you with easy-to-use functions and built-in features by which you can project your movie, and presentations, play games, and much more.
The 4K HDR Projector has been made with enhanced brightness levels to deliver the exact count of brightness, and color contrast, and give you a feel of realistic picture quality. However, in this comparison, we will show you the main difference and features of these two brilliant projectors by Sony.
Frequently Asked Questions
Is VW295ES Better in The Price?
Well, this projector is really cheap at the price rates. This one is the most affordable projector by Sony you can buy now. And of course, it is better at a price as compared to the other projector.
Why Do I Need To Choose The Projector VW695ES?
If you want to enjoy the extreme brightness (lumens), then choose this projector now. As this one offers you the lumens of 1,800. 
Which Projector Gives You Better Brightness (Lumens) VPL-VW295ES or VPL-VW695ES?
As we already have shown you above, both projectors are too good at giving you the best performance ever. However, 695es is better in lumens.
Do Both Projectors Offer The Same Lamp Life (hours)?
YES, both projectors offer you the same lamp life (hours), and that would be around 6,000 hours of lamp life.
Conclusion
So, in the comparison of the Sony VPL-VW295ES vs VPL-VW695ES article, our winning projector is the "VPL-VW695ES".
However, this projector is way better than the other projector, and it gives you better lumens, a better contrast ratio, and of course, it is lighter in weight.