As an Amazon Associate, I earn from qualifying purchases. If you make a purchase through links from this website, we may get a small share of the sale from Amazon.
Imagine this, having your best mates at your place to watch the movie of the year. But, the projector you own is not the perfect projector to make your night worth remembering.
Sad, right?
To stud your night with perfection, here's a guide on how to choose a projector for home theater.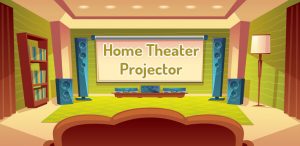 Grab a drink, or maybe two, because we will look at all the perspectives in this comprehensive guide and show how you can make the right choice for your home theater.
There might only be slight differences between projectors for official or home use. However, these differences can be significant, especially if you are an avid projector lover.
Basic Qualities To Look For In A Good Projector
Here's a list of qualities you might want to consider before buying a projector. The list consists of standard features in a projector, whether the church projector or a short-range projector.
Before we leap into the details, you should figure out what you need the projector for. The outdoor movie projector will undoubtedly demand some different factors from the rest.
The list below will generalize some key points to look for in literally any business projector. While looking for your answers to how I choose a projector, we generalized a list.
Let's get started.
Color Clarity & Brightness
The best way to judge a projector's brightness is to look for its Lumens rating. Although the rating will depend upon where you put the projector, that is, in a dark or light environment. Generally, the lumens rating of 2000-4000 is considered optimal.
Resolution
Here's a simple rule you need to remember, the greater the resolution, the better the picture quality. The resolution can range anywhere from 800 x 600 to 3840 x 2160. Yet again, it all depends on the use.
Typically, it is better to use a low-resolution projector if you are using it for school presentations. You don't need to invest a huge amount when the work can be done at a lower price.
Connectivity
Again, if you're searching for how to choose a gaming projector, there might be certain things on your radar, including an HDMI port. The best gaming projector will definitely come with an HDMI port.
USB port and Wi-Fi accessibility come useful in a projector. Therefore, broaden your research boundaries and look wisely.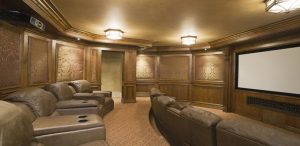 There's a bundle of more features you need to keep in mind. Zoom range, price, types of LEDs, and lamps all account for when looking for a projector.
Keeping your projector in an open environment or in a large room will require you to have a big throw projector so that you can easily adjust the position.
If your budget is low, you might want to reconsider looking for all the specifications mentioned above. Ideally, the best projector under $1000 will cover most, if not all, of the mentioned features. Lamp, laser, or LED projection is yet another guide. Look deeper into what these have to offer you.
How To Choose A Projector For Home Theater?
We have already discussed what a good projector is comprised of. However, your answer to how to choose a projector for home theater has to be specific.
Now that we have detailed all the possible features of any good projector, it's time to look at what makes a projector good for home theater.
HDR
Investing in a projector for home theater, you definitely are looking for good pixels, brightness, and color display. You are going to get all this in an HDR projector. Remember, not all projectors come in HDR. Look for the best 4K projectors under $2000, which most likely will support it.
Contrast Ratio
In the simplest words, the contrast ratio is the brightest color's luminance to that of the darkest color. If you already know what contrast ratio is, a good tip is to remember that a brighter projector means a better contrast ratio.
Lumens
As discussed earlier, lumens play an essential part in choosing a projector for home theater. The best lumens for a home theatre projector will provide advanced picture quality. Typically, a home theater needs at least 1000 lumens. Lumens ranging anywhere from 1000 to 2500 are ideal, considering how light or dark your room is.

Feature To Consider Before Buying Top Quality Projector
Mounting Plate
Custom mounting plates are always preferred if you are buying a projector for home theatre. A custom mounting plate will save your projector from sagging and keep it balanced.
Let's be real, having to adjust the projector now and then is annoying. A perfect movie night can be saved from the disaster of fixing the projector position by looking for a custom mounting plate.
UST
Ultra-Short-Throw may seem unimportant, but it plays a vital part in determining to choose a projector for home theater. A big screen but no put your projector without a hindrance?
UST will solve your problem. Not only can you place it directly below the screen, but there also won't be an issue with anyone coming in front of the projector.
Ventilation
VERY IMPORTANT. I repeat, venting is essential. The projectors will come either in the back or front venting. The front venting will come in handy if you place the projector in front of the audience, that is, you.
If you are sitting behind a projector with back venting, you might want to reconsider this. The ventilation will cause a lot of heating. Hence, I chose wisely.
Features such as brightness, resolution, and projector throw have already been discussed earlier. Invest in the best projector under $500, which will undoubtedly have these qualities in it.
Conclusion 
The hunt for a projector can undoubtedly be a difficult task. Detailed research will never hurt for a quest to buy a good projector.
To make your task trouble-free, this guide on how to choose a projector for home theater will help get you to see things through and through!